Let us help you with your Ant Removal Issue
Thank you for your interest in our $99.99 Interior or Exterior Ant Service.
Schedule your service by filling out the form. Our staff will reach out by phone with scheduling options and to discuss the type of ants you are seeing. Please be sure to note a good time to reach you.
We offer this service for, either, an exterior or interior service based on the type of ants you have. Some ants are best treated from within your dwelling and others may be best treated from outside with a barrier treatment. Technicians may make additional recommendations based on activity and type of pest.
Details:
Offer cannot be combined with other specials or offers

Offer cannot be applied to current or past jobs

Offer is for residential service only

Appointments are to be performed during normal business hours

Offer is pest specific and may not be used for other services

Treatments are not warranted on single service basis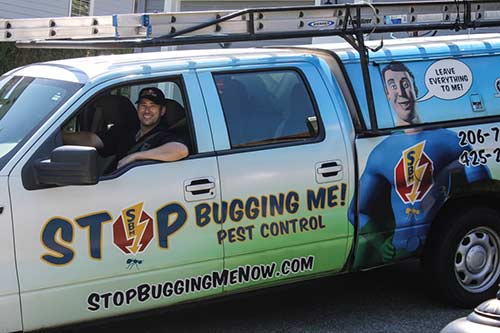 Ants cause damage to thousands of homes every year in the Puget Sound. Stop Bugging Me Pest Control is the local choice for ant removal and remediation. Our certified technicians will make your home safe from ants to keep them from further damaging your home.
Northwest's trusted choice for Ant control. Stop Bugging Me offers more value and a more experienced staff.

Local technicians and ownership means we are part of the community you live in. We are neighbors and friends, and are here for the long haul if you ever have a problem.

Our services are effective and our technicians are environmentally conscious. We offer extremely safe and effective methods of ant control.
"Stop Bugging Me came out to assess the exterior of my home for rodent activity and to place traps. Went great! Work was thorough and they came out the next week for a free follow up to clean the traps."
"We had the perimeter of the house sprayed and cleared of spiders and webs. Stop Bugging Me was prompt, efficient, friendly, and did a great job clearing our house (which had been sitting vacant for a month and was covered in webs)."
"They were very helpful in explaining what the ants were looking for and doing, and completing the necessary repeat treatments to get rid of them. We have them come out every three months and haven't seen any ants in the house since the summer. The technicians are always courteous."
We have helped thousands in the Puget Sound
Our services are effective and our technicians are environmentally conscious. We offer extremely safe and effective methods of ant control.
Our value is in our commitment to fix your problem. We are not a one and done company. We strive for your complete satisfaction and offer many programs for effective ant control at a reasonable price.
Experience is knowing how to do the job right and doing it at a fair price. We have over 80 years combined experience in ant removal and remediation which means 80 years of serving clients in the northwest.