Crawlspace and Attic Remediation
Repair damage caused by rodents, birds, mold, and water with Stop Bugging Me Pest Control's crawlspace and attic remediation services.
Overview
In addition to pest control and pest management services, Stop Bugging Me Pest Control offers crawlspace and attic restoration to repair damage caused by rodents, birds, and water or to restore areas that need to be brought up to code.
Protect Your Home
When rats and mice infest crawlspaces or attics, they nest in the insulation which can cause a host of issues. Rat and mice tunneling, urine and droppings can contaminate the insulation, reducing the effectiveness of sealing heat in your home. The droppings and urine can also introduce harmful bacteria and pathogens in air filters. Ensuring that your crawlspace and attic are sealed and free from invaders is important to your health and the health of your home.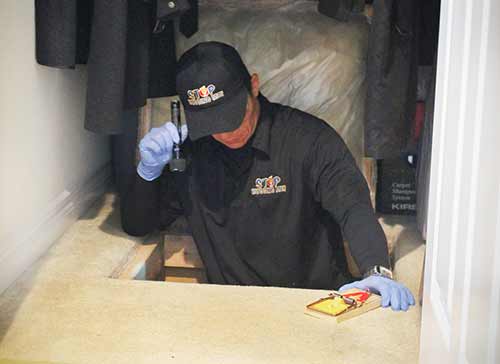 Keeping your Crawlspace Pest-Free
Pest and Rodent Exclusion
Protect crawlspaces by keeping rodents and other pests out. Stop Bugging Me Pest Control's expert technicians will inspect the interior and exterior areas surrounding crawlspaces to identify access points. Once all entry points are identified, your pest control technician will close access to these areas by using materials including screens, foam, wood, concrete and gravel, as well as crawl doors and any other methods to get the job done right.
Vapor Barrier Replacement
A quality vapor barrier is essential in keeping your crawlspace dry and preventing mold and fungus from developing. Vapor barriers should be a thick, dark plastic sheet that completely covers the floor of the crawlspace to prevent light from penetrating the soil underneath. Vapor barriers covered in rodent droppings and urine should be replaced to eliminate pathogens and odors.
Vapor Barrier Replacement includes:
• Removal of old vapor barrier
• Removal of lose debris in crawl space
• Cleanup and removal of rodent droppings from pier posts and foundation
• Sanitizing and deodorizing of the crawl space
• Installation of new vapor barrier.
Insulation Replacement
Stop Bugging Me Pest Control will dispose of old, damaged or compressed insulation and replace it with high-quality, energy efficient insulation. Replacing old insulation in your home can improve air quality by 30 to 40 percent and reduce heating costs. It may also qualify you for an energy credit on tax returns.
Attic Remediation Services
Performing a thorough attic cleanse may require the use of a vacuum extracting machine to remove loose insulation and debris. Once old insulation materials are removed and bagged up, the Stop Bugging Me Pest Control team will install blown-in insulation to meet the quality standards necessary to cover the entire attic and keep your home warm and energy efficient.