I worked on the bee hive today as I was getting a small amount of rain water entering the top of the hive. The video shows the underside with the vent holes. My hive contains Carniolan Honey Bees which are a subspecies of the western honey bee.  More information can be found at https://en.wikipedia.org/wiki/Carniolan_honey_bee.
These pavement ants were seen in Lake Chelan, WA.  Their formal name is Tetramorium caespitum.  They are a member of the Arthropoda phylum.  Their name refers to being found typical in the pavement of sidewalks, patios and driveways.  You can find more information at https://en.wikipedia.org/wiki/Pavement_ant.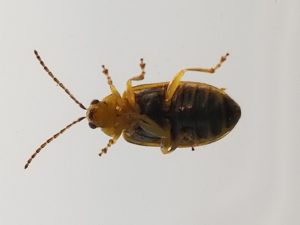 This little Beetle was found on the window of a condo at Wapato Point in Lake Chelan. The back ground is white due to the smoke from the Jolly Mountain and other Fires in Washington State. We are unsure of who this little beetle is but it is approximately 1 centimeter in length. The wing covers from the dorsal/top view are a green/grey color with a couple small spots toward the "shoulders" near the head and a black line down the outside edge.