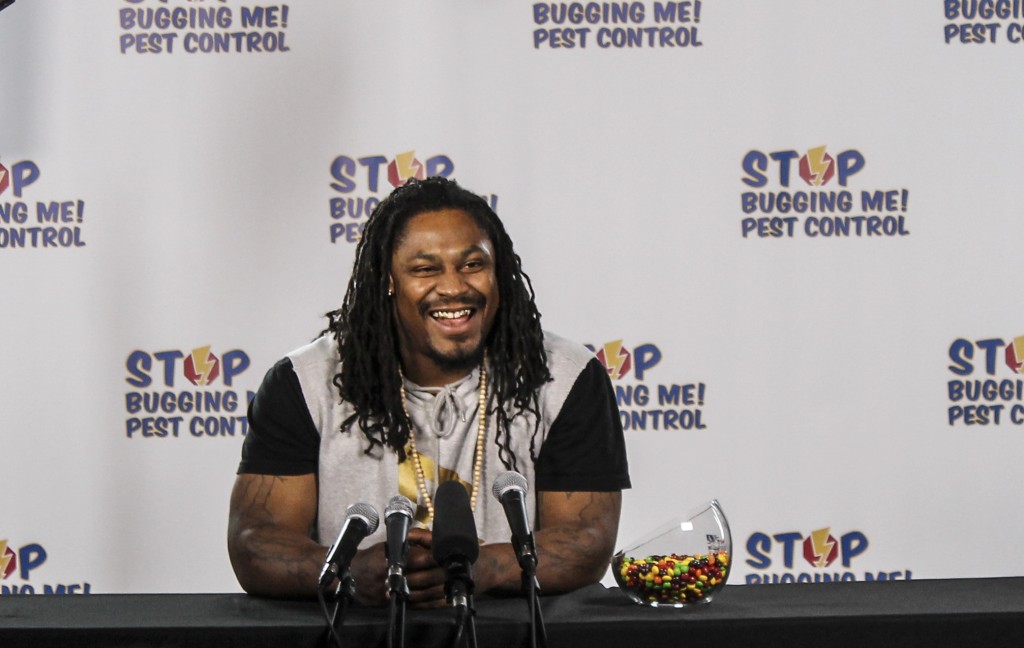 They don't call Marshawn Lynch "Beast Mode" for nothing! When it comes to managing his pest control needs, Marshawn takes it just as seriously as he does when he crushes opponents on the field – because having pests in your home (or place of business) is no laughing matter.
This past September, we launched a new advertising campaign with the Seattle Seahawks Super Bowl-winning running back. The series of 30-second ads features Marshawn Lynch being asked a number of humorous questions by reporters, to which he replies "Stop bugging me." Among them? "Marshawn, who's the better dancer. You or coach
[Pete Carroll]?" and "What do you think of Donald Trump?"
"While we take pest-related issues very seriously, we like to poke a little fun in our advertising campaigns," said Tom Grim, general manager of Stop Bugging Me Pest Control. "We are so thrilled to team up with Marshawn Lynch. He is a nationally recognized football star with unmatched athletic skills. We wanted to leverage his public persona and give a light-hearted take on his media presence."
Stop Bugging Me Pest Control provides targeted pest management solutions for homes, businesses and multi-family housing units in Seattle, Bellevue, Tacoma and beyond. To request a free pest control service quote, submit a form here www.stopbuggingmenow.com/quote-request or give us a call at (206) 749-2847.
To view a list of Stop Bugging Me Pest Control commercials featuring Marshawn Lynch, visit our commercial page www.stopbuggingmenow.com/television-commercials/.