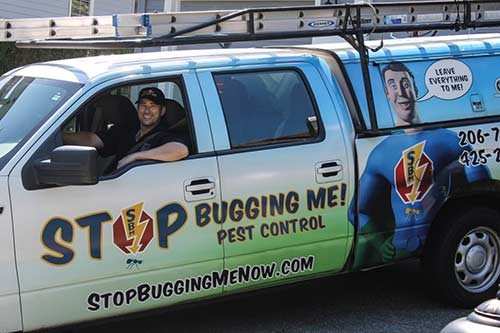 As a leader and innovator in the pest control industry, Stop Bugging Me Pest Control is always looking for talented people to join our team.
Stop Bugging Me is currently looking for experienced technicians and office staff, as well as individuals just getting started. Stop Bugging Me Pest Control offers competitive wages and a full range of benefits.
Do you like having new challenges presented to you every day? Are you organized and self-motivated? Do you enjoy working with people? If you have answered yes to these questions then a career in pest control may be your calling. Pest control experience is not necessary since we offer technical training in-house. We will get you into that super hero suit sooner than you think!
This position is responsible for producing and performing Integrated Pest Management solutions for residential and commercial customers. An SBM Technician solves problems, recommends actions to prevent future pest issues, and creates long-term customers. Prior pest control experience is welcome, but not necessary as we provide paid training.
QUALIFICATIONS:
• Retail customer service in a technical field.
• Passion for solving problems "Takes pride in completing a job and solving issues."
• Solid communication and interpersonal skills.
• Customer service focused.
• Current valid driver's license with a good driving history.
• "Can-do" attitude and be able to work independently.
PREFERRED QUALIFICATIONS:
• Knowledge of pest identification, activity, ecology, and biology.
• Valid WSDA pest control license.
• 3+ years of Pest Control experience.
• Experience executing Integrated Pest Management (IPM) plan
• Signing bonus for experienced technicians!
You will be the first contact for many of our customers, so you need to be motivated, passionate, and professional. We need someone that will maintain high customer satisfaction and uphold our excellent service standards.
DUTIES:
• Managing a large amount of incoming calls
• Solving customer's and technician's problems
• Schedule technicians based on geographical location
• Filling out and filing paperwork
• Explaining and selling services to customers
• Other reasonable duties as assigned
QUALIFICATIONS:
• Proven customer service experience
• Strong phone handling skills
• Excellent communication and mastery of the English language
• Ability to manage time effectively and multi-task
• High school diploma
Outside Sales Executives help us expand our business-to-business operations around Puget Sound. Our sales team members are independent, self-starters that are looking for great opportunities and want to share in the success of our growing company. No pest control knowledge is needed and there is no need to go into attics or basements; you'll be working with property managers and high level managers. We are dedicated to exceptional customer service and to providing our employees with the best workplace environment in the industry. Our team-oriented approach to everything we do has helped us build and maintain a great work environment and a rewarding career for our employees.
DUTIES:
Drive revenue through effective cold calling and relationship maintenance.
Serve customers by providing product, pricing, and service information
Work with office staff for scheduling and effective hand-off.
Inform customers of new products and services that we offer
Handle customer complaints and inquiries for a positive resolution
QUALIFICATIONS:
Excellent Customer Service skills
Self-organized; self-proficient, self-motivated
Present yourself professionally on the phone and in-person
Current Washington State driver's license and reliable vehicle
Typing proficiency for data entry and CRM
Preferred:
Proficient in Microsoft Office Suite (Outlook, Word, Excel)
Strong Customer Service background
Time management and organizational skills
Previous sales experience
Whether you are interested in joining us in the office or in the field – we want to hear from you.