Bed Bug Control and Extermination
I have a bed bug infestation! What do I do now?
Call 206-749-2847 for exterminator service in the Seattle area
Experiencing a bed bug infestation can be a frustrating and traumatic experience. Stop Bugging Me Pest Control's proven process of controlling and eliminating bed bug infestations will leave you with the peace of mind knowing that you're in good hands. Our best practices include the most up-to-date treatment methods and technicians with thorough knowledge of the industry. You can be confident that we will control and put an end to your bed bug problems.
Bed bug infestations can be difficult to detect but there are telltale signs to look for including small spots on mattress crevices or dead bugs where the mattress and frame meet. At Stop Bugging Me Pest Control, we recommend the use of bed bug monitors and box spring encasements as a preventative measure and to eliminate reintroduction of bed bugs. Call Stop Bugging Me Pest Control today and leave everything to your local pest control superheroes.
Why you should call the experts if you suspect a bed bug infestation:
Cleanliness is not an indicator or primary cause of bed bug infestations – it can happen to anyone! Bed bugs are mobile insects that have been feeding on human blood for thousands of years. These insects have a knack for hiding in cracks and crevices, and they are very resilient and can live without a blood meal for long periods of time. This makes them easy to transfer from place to place and difficult to treat – especially in multifamily living communities.
Although bed bugs are not known to transmit blood borne diseases, they can cause stress to people and their bites can lead to skin infections and allergic reactions. The Centers for Disease Control and Prevention (CDC) and the Environmental Protection Agency (EPA) classify bed bugs as a pest of public health significance.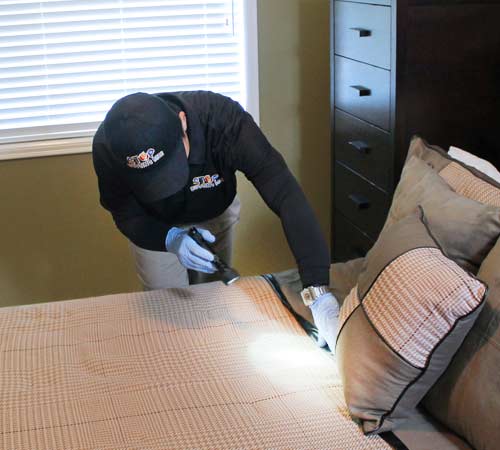 "Quick and straightforward. Took care of our bed bug issue and provided timely follow up."
Emily Y.
Seattle, WA
Bed Bug Infestations and How to Control Them
We employ a number of bed bug treatment methods at Stop Bugging Me Pest Control because we understand that your home or business may have specific needs. Each individual home, multi-family housing unit, apartment community or business presents different challenges when it comes to bed bug extermination. Both chemical and heat methods are used to stop bed bugs from bugging your home or business.
Bed bug sniffing superheroes.
If you detect or suspect a bed bug infestation, we can employ bed bug sniffing canines and monitoring devices to prove or disprove the existence of bed bug activity prior to treatment. Bed bug sniffing canines use their keen sense of smell to sniff out live bed bugs and eggs. Stop Bugging Me Pest Control's team of dogs are certified by the National Entomology Scent Detection Canine Association (NESDCA), an organization formed by pest control professionals to ensure the highest standards of scent detection canines. We employ these specially trained dogs in commercial settings including multi-family housing units, high-rise apartment buildings, garden-style apartment complexes, and aboard maritime vessels.
Furniture inspection.
Climb-up bed bug interceptors (bed bug trays) can detect bed bugs on individual pieces of furniture by capturing bed bugs trying to climb onto an item. Bed Bug Detection System (BDS) glue monitors can also be used under and around furniture.
Treatment.
If monitors show bed bug activity, treatments will be applied, which may include the recommendation of mattress encasements, steam or heat treatments, dusting of wall voids, chemical crack and crevice treatment, and bed and headboard treatment. Our pest control technicians work with pesticides with the lowest levels of toxicity.
We maintain an inventory of bed bug trays and mattress encasements available to tenants and property managers for maximum efficiency of bed bug services.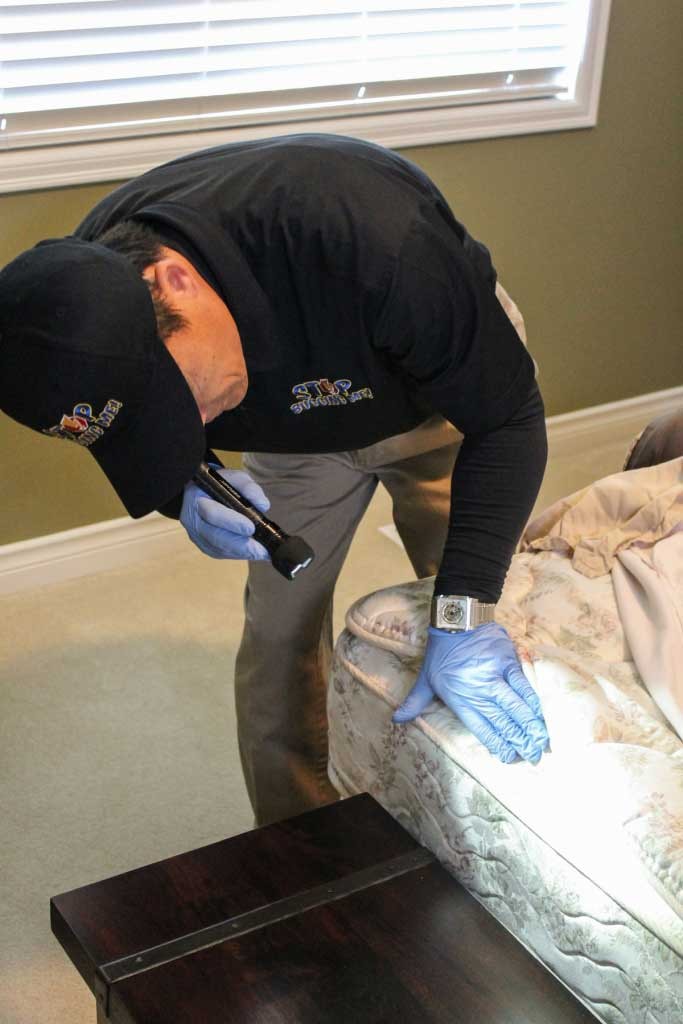 Stop Bugging Me Pest Control's Bed Bug Service includes the following:
1. Inspection and initial treatment – Our technicians will apply an initial treatment to all bed bug harborage areas, including cracks and crevices, furniture, mattresses, and wall voids, to kill existing bed bugs, interrupt their life cycle, and eliminate future hiding spots. Climb-up bed bug interceptors and mattress encasements are highly recommended for additional prevention and monitoring.
2. Follow-up service – After the initial visit, your Stop Bugging Me Pest Control technician will provide a thorough follow-up service, included at no extra charge. During this service, the technician will look for remaining bed bugs, treat any areas of harborage where eggs may have hatched after the initial service, and remove bugs that are still present.
Bed Bug Facts and Infestation Signs
What do you think of when you hear the words bed bugs? Hotels? While bed bug infestations do occur in hotel rooms, they can thrive in almost any surrounding – whether it's a multi- or single-family home, office building, college dorm room, retail store or restaurant. They can live anywhere humans are present.
Bed bugs feed on the blood of people and animals while they sleep. Signs of an infestation include sighting of a bed bug or groups of bed bugs, molted bed bug skins and fecal spots.
Where to look for these signs:
• Along mattress seams
• On the frame of bed box springs and behind headboards
• In ceiling / wall voids
• Along baseboards
• Curtain seams where they gather at the rod
• In personal belongings like purses or luggage and on clothing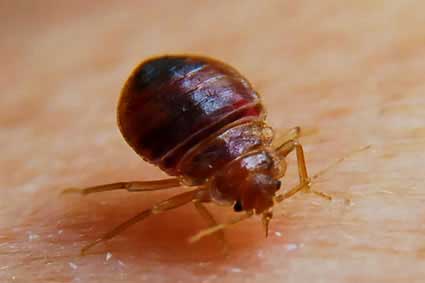 Bed bugs are often confused with fleas. Adult bed bugs are about the size of an apple seed (4 -5 mm) and are reddish brown in color. Their bodies are flat and they do not have wings. Immature bed bugs are visible to the naked eye. However, unlike adult bed bugs, they are smaller in size and are a translucent whitest-yellow color.
What Do Bed Bug Bites Look Like?
Symptoms of a bed bug bite can vary depending on the person. Some people may not even experience any symptoms at all. Bed bugs will bite any exposed part of the body including the face, neck, arms and hands. Signs of bed bug bites can appear in minutes or even days after the initial bite. The most common symptom of a bed bug bite is itchiness and red skin lesions that look like small, raised bumps or flat welts. These lesions often appear in clusters or a linear pattern and can take up to two weeks to go away. Individuals that experience allergic reactions to bed bug bites will have symptoms ranging from scarring to more serious skin infections and rashes.
 Avoid Bed Bug Infestations with These Tips:
Inspect suitcases after a trip – Don't bring bed bugs home from vacation. Vacuum suitcases after returning from trips. Don't place baggage on the bed as this can easily transfer the bugs to the mattress. Place luggage on the suitcase holders in hotel rooms.
Check your bed sheets – This is a good practice to put into place when traveling. Bed bugs excrete blood-filled fecal matter on mattresses and nearby furniture. Check hotel bed sheets and routinely check bed sheets at home for rusty-colored blood spots.
Examine second-hand furniture before introducing it into your home – Check wood or upholstered furniture, especially along crevices and seams. Bed bugs prefer wood and fabric furniture to plastic and metal but they can hide anywhere so look closely before bringing items into your home.