Did you know that Stop Bugging Me Pest Control offers commerical services to schools, universitites and community colleges all throughout the greater Puget Sound area?  We're proud to help protect the homes and assets of people in the community from rodents and the disctruction they  cause.  Our exterminator services are detailed and thorough and we closely work with our customers though the entire pest control process.  Call 206 749 2847 to book your appointment.
CHIMACUM, Wash. — Football is a big thing in Chimacum, but a horde of destructive rats have put one local team's season in jeopardy.
In the chilly fall months, there's not a lot for a 9- or 10-year olds to do in Jefferson County but play football. With the season just around the corner, coach Darrin Dotson drove to his storage locker last weekend to get the pads, blocking dummies and helmets.
"I opened up the door and there was about six inches of foam on the ground and it came spewing out on my feet," Dotson said.
The destruction was the work of rats or mice.
"Yeah, one of these blocking dummies had a practice jersey pulled inside it, it was being used as a nest," Dotson said.
Helmets were chewed and some were yellowed. Others were full of droppings. Dotson did his best to wash everything with bleach, but he said they still smell like a rodent restroom.
"I'm not going to use any of that gear," he said. "To me, it is a complete loss. I am not going to take the responsibility for any child getting sick." That means Dotson's son, Cole, will have to wait to see if the league can raise enough money to buy new pads and equipment.
"I've used that stuff on my own time, too. I hate to see it destroyed," Cole's brother Lane said. "I hate rats. I hate that they did that to our stuff."
The league had about $5,000 in its bank account, and it spent all but $1,000 of that on new helmets. But the big question is whether pads and other equipment will arrive in time for the team to be ready for its first game, which is scheduled for September 15.
League officials hope parents and local businesses will help them replace the rest of the damaged equipment.
By Bryan Johnson Published:  Aug 15, 2012 at 5:43 PM PDTLast Updated: Aug 15, 2012 at 6:43 PM PDT  WWW.KOMO4.COM
You don't have to drink to excess in order to keep bed bugs away.  Call Stop Bugging Me Pest Control at 206 749 BUGS for all of your pest control service needs, including bed bug pest control.  We use only proven bed bug control methods, not the latest fad.  Call us today, our results speak for themselves…..
A new study by researchers at the University of Nebraska shows that bedbugs are more likely to leave you alone the longer you stay at the bar. It turns out the terrible little vamps are picky drinkers and prefer the blood of the teetotaler to that of the binge drinker in direct proportion to the number of pints you've downed. This sounds like great news to the young and careless, but the researchers found a way to be buzzkills about it. "I'm not going to suggest someone should consume alcohol to control bedbugs," said Ralph Narain, a Ph.D. candidate. Bummer. Guess we'll have to just keep doing it for fun, then.
Article and picture from MSN.com http://blu.stb.s-msn.com/i/22/73A96FC8EDFB694B9FCA0A59A8FF.jpg
Bed Bug bombs don't work.  That's what a recent study conducted by The Ohio State University says.  At Stop Bugging Me we provide proven bed bed pest control solutions.  That's why major hotel chains, property management companies and many others trust us with their bed bug control needs.
Do-it-yourself "bombs" or "foggers" that target bugs by filling entire rooms with aerosol insecticide are billed as an easy, cost-effective alternative to pricey pro exterminators. Although these products are indeed cheap, retailing at hardware stores for around $10, if you use them on bed bugs you're likely to get what you pay for.
In a new study, the first of its kind to be published, entomologists at Ohio State University tested three commercially available foggers – sold under the Hot Shot, Spectracide, and Eliminator brands, respectively – and concluded that all three products were virtually useless at fighting bed bug infestations.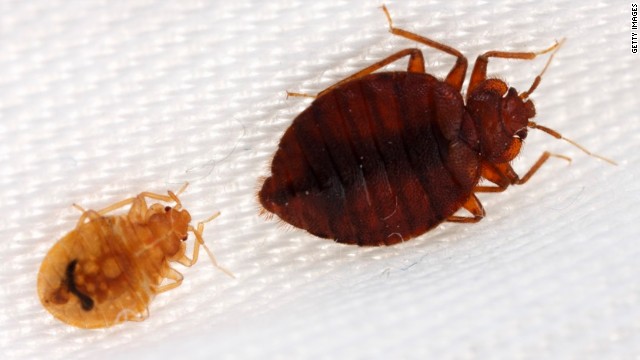 Bed bugs in houses and apartments tend to be resistant to the insecticides used in most foggers, the study found, and even non-resistant bugs are likely to survive a fogging because the mist of chemicals doesn't appear capable of penetrating the cracks in furniture and walls where bed bugs usually hide.
"Based on our findings, bug bombs should not be used for crawling insects such as bed bugs," says lead researcher Susan C. Jones, Ph.D., an associate professor at the university. "These products shouldn't even be labeled for bed bugs."
Only one of the products tested, the Hot Shot Bedbug & Flea Fogger, specifically calls out bed bugs on its label, while the othersrefer broadly to "crawling" or "biting" insects.
Bed bugs are a major nuisance but generally don't pose a threat to health, as their bites rarely cause more than itching welts or the occasional allergic reaction. Foggers, on the other hand, can be hazardous if used incorrectly.
In a 2008 report, the Centers for Disease Control and Prevention indicated that at least 466 fogger-related injuries or illnesses were documented across eight states between 2001 and 2006. The most common ill effects—such as headaches, nausea, and coughing – tended to be minor and short-lived, although hospitalization was required in 21 cases.
Most incidents apparently involved people who didn't leave the room quickly enough after setting off a fogger, or who reentered a room too soon. In addition, Jones says, the insecticides found in foggers (known as pyrethroids and pyrethrins) can contaminate surfaces such as kitchen counters, and the aerosol propellant used to disperse them is flammable.
The new study, which appears in the Journal of Economic Entomology, suggests that foggers are so ineffective against bed bugs that they probably don't warrant even the small risk of harmful insecticide exposure or other hazards.
Jones and her colleagues began by collecting five different populations of bed bugs from residences in Columbus, Ohio. As a control group, they added a sixth population, known as the Harlan strain, that has been cultivated in alaboratory – and carefully sheltered from pesticides – since 1973.
The researchers then placed the various bed bug populations in petri dishes and exposed them to the foggers in a campus building slated for demolition. After one test, Jones recalls, "the Harlan bugs were keeled over and all of our field populations [were] just scurrying around as if nothing ever happened to them," which suggests the non-laboratory bugs were resistant to the insecticide.
In a second series of tests, the researchers added small shelters made of paper discs or cloth to the petri dishes. These shelters, which allowed the bugs to hide during fogging, were designed to mimic the bugs' natural hideouts, such as the cracks and crevices in floorboards, along mattresses, and behind picture frames.
This time the fragile Harlan strain survived just fine. "The critical issue is that the droplets don't penetrate cracks or crevices," Jones says. "They don't even get to where the bugs are hiding."
So is there any way to get rid of these elusive critters?
Professional exterminators can wipe out an infestation, but they charge hundreds, if not thousands, of dollars, Jones says. Simple measures such as putting sheets in the dryer for 30 minutes, scouring mattresses with paper towels, and using a credit card to crush bugs hidden in floor boards and bed frames also can help reduce a population, she adds.
United Industries Corporation, which makes all three of the products tested in the study, emphasized in a statement that only the Hot Shot brand fogger is designed to be used on bedbugs. The company stood by its line of Hot Shot products, saying they are "proven to be effective against bed bugs."
The Hot Shot fogger "is particularly effective when used in in conjunction with our bedbug-killing direct sprays," said John Pailthorp, the company's division vice president of marketing. "We advise homeowners to follow up with a repeat, full-scale treatment one to two weeks after the initial fogging to ensure that bedbugs have been eradicated. And, as always, we recommend a professional evaluation if the problem is particularly severe."
Did you know at Stop Bugging Me many of our technicians hold aquatics licenses?  That means if you have mosquitoes around your pond or near a body of water we can help.  Stop Bugging Me Pest Control is the only call you need for all of your pest control needs.  I think we can all agree that no one wants mosquitoes, except maybe the researches in the article below provided by KOMO news……
Seattle medical researchers are taking an unusual approach to eradicating one of the world's deadliest diseases.


Scientists at Seattle Biomed are unleashing malaria-infected mosquitoes onto human volunteers in hopes of finding a vaccine for the disease.
After breeding their own mosquitoes in trays of stagnant water, researchers feed the insects blood infected with malaria. Those mosquitoes then bite volunteers who have been given a vaccine.
Mosquitoes transmit malaria through their salivary glands, and researches have discovered that they can remove those glands to create a vaccine.
Dr. Stefan Kappe is one on the scientists working on the project and said that while the new approach isn't exactly high tech, it might just be the key to stopping a disease that kills nearly one million people each year.
"It's a very powerful but also very simple way to see if your vaccine protects against malaria," he said.
The study, which is being funded in part by the Bill and Melinda Gates Foundation, used infected mosquitoes on six human volunteers last year.
The early results have been positive, and Kappe hopes to have the vaccine developed in just a year or two. While that's good news for those in danger of being infected by malaria, Kappe warns that that it could take 10-15 years before a final product is licensed and available to the public.
You may not think that pest control and the Super Bowl would have much common ground.  But this year, one commerical brought this odd couple together – Chevy's commercial for their new Joy.  At Stop Bugging Me Pest Control, this ad got out vote for the best of the game.
Most bugs aren't this cute, that where Stop Bugging Me Pest Control comes in handy, we're you Seattle pest control solution.  Call us today at  206 749 BUGS (2847)!
Rodent populations will continue to increase in conditions that allow easy access to food and shelter. Sanitation efforts in conjunction with rodent proofing provide the best solution to reduce or completely eliminate these conditions.
 Below are some simple steps you can take to stop rodents from making your home theirs…
Exclusion
Rodent-Proofing your home whenever possible is a critical step in controlling rodents. Ideally, you can control rodents by making it impossible for them to gain entry to your home. However, it may be difficult to exclude mice completely since they can pass through ¼ inch openings, approximately the size of a dime. Rats can squeeze through ½ inch openings or the size of a nickel. Any of these possible rodent access points must be inspected.
Rodent Access Points
 ◊ Repair all holes and cracks in foundation, walls, basements and such.
◊ Equip doors and windows with fine-mesh, well-maintained screens.
◊ Chimneys should be capped.
◊ Seals around all exterior lines leading through walls must be tight.
◊ Cover vents with metal grill-work and rust-resistant screening.
Rodent Proofing Materials
 ◊ Concrete
◊ Caulking
◊ Copper or Aluminum Mesh
◊ Coarse Steel Wool
◊ Hardware Cloth – 19 gauge
◊ Sheet Metal – 26 gauge thickness
Bed bugs' ability to withstand inbreeding and still produce healthy offspring is one of the reasons just one or two introductions into a building can soon result in a serious infestations, researchers announced at the American Society of Tropical Medicine and Hygiene (ASTMH) annual meeting. After virtually disappearing in the 1950s, Cimex lectularius, the common bed bug, has returned in a big way over the last ten years.Bed bugs have also
developed resistance to pyrethroids, a type of insecticide that used to be much
more effective in controlling them.
ASTMH researchers also offered new
ways of controlling these pests in apartments and houses. They say it is
possible to prevent insecticide resistance. There are new compounds about that
can attract and repel them, they added.
Bed bugs are blood-suckers.
However, they do not transmit disease. They provoke allergic reactions,
including itching and inflamed welts. They are known as pests that pose an
economic and social threat to residents and owners of homes, apartment
buildings, public buildings and hotels. Controlling them can be costly.
Rajeev Vaidyanathan, PhD, associate director of Vector Biology and Zoonotic
Disease at SRI International,said:
"New York City alone spends between $10 million and $40 million per
year on bed bug control, and these numbers are repeated in other major cities
across the US.

Over 95 percent of pest control agencies reported bed bugs
as a priority in 2010, thus superseding termites as the number one urban
pest."
There are from ten to one hundred times more reports
of infestations today in hotel rooms, apartment blocks, and family homes
compared to twenty years ago, the researchers explained. Scientists are still
not completely sure why.
Bed bugs are able to inbreed without
compromising their genetic integrity, i.e. they can still produce healthy young
- this means that you only need a few of them to start a serious
infestation.
Coby Schal, PhD, and Ed Vargo, PhD, from North Carolina
State University (NCSU), set out to examine the genetics of bed bugs. They
performed two studies on three apartment buildings in New Jersey and North
Carolina. They found that within each apartment the bugs were very closely
related – there was an extremely low genetic diversity within each single
building. This means that each infestation started off with a very small number
of bugs. Their studies are currently being peer-reviewed.
If bed bugs are
able to inbreed and still produce healthy offspring, they can spread easily from
one apartment to the next in the same building rapidly.
The team carried
out a separate study which looked at 21 infestations from Florida to Maine. In
virtually all cases, the source was a single room within a
building.
Schal said:
"Inbreeding gives bed bugs an advantage in being able to colonize. A
single female that has been mated is able to colonize and start a new
infestation. Her progeny and brothers and sisters can then mate with each other,
exponentially expanding the population. With many organisms, extensive
inbreeding would cause serious mutations that would eventually bring about an
end to the population."
The researchers added that
cockroaches also appear to be successful inbreeders.
How to overcome insecticide resistance
Bed
bugs have become progressively resistant to previously effective insecticide
treatments. A new study has shown that it is possible to neutralize the
mechanism that makes the bed bug resistant to pyrethroids
insecticides.
Ken Haynes, PhD, an entomologist from the University of
Kentucky and team have been researching on bed bug insecticide resistance.
Collaborators, Subba Reddy Palli and Fang Zhu targeted specific enzymes within
the insects that are linked to the P450 detoxification system that breaks down
the insecticides before they reach their targets. They used RNA interference
against the P450 family enzymatic partner to selectively switch off the system
inside the bed bugs, thus preserving the efficacy of deltamethrin (the
insecticide).
Better traps and detectors
Bed bug behavior is
influenced by several compounds. Scientists say they are discovering new ones.
If they can identify and understand what the functions of chemical compounds the
bed bugs secrete are, they might have a better chance of controlling
infestations.
Vaidyanathan and team isolated seven new bed bug compounds
that had never been detected before. These could become attractants (to attract
the bugs). The idea is to create a cocktail of these compounds to attract the
pests into a trap.
Entomologist, Mark Feldlaufer, PhD, who works in the
US Department of Agriculture's Agricultural Research Service, is carrying out
research into pheromones that can influence bed bug behavior. There are some
alarm compounds that warn insects of the same species that there is
danger – the team has examined their chemical blueprint.
Feldlaufer's
investigation discovered which chemicals are associated with the outer skeleton
of bed bugs. He is trying to find out whether dogs might be able to sniff out
some of these chemicals, i.e. sniff out bed bugs. Dogs are used by professionals
in pest management to seek out pests, just as they are used to find drugs, lost
people and explosives.
Bed bugs and humans
Vaidyanathan says:
"Bed bugs are our oldest roommates. There is even evidence of bed
bugs in Pharaonic Egypt. The problems we are seeing with bed bugs in North
America did not happen overnight. They are the consequence of multiple repeated
introductions from all over the world.

We have the highest concentration
in the history of our species of humans living in cities. For as long as we've
been standing on two legs, we've lived in rural areas. Over the last ten years,
the majority of humans have moved to urban areas.

This is the perfect
setting for creating a high density of mammal nests for bed bugs. Bed bugs do
not have wings; they are nest parasites, so our own population density has
helped them to thrive."
Within a single building the genetic
diversity of bed bugs is limited. However, the NCSU scientists explain that the
genetic diversity of bed bugs throughout East Coast high – the pests come from
several places, from both within the USA and abroad.
Domestic and
international travel is a major factor in the increase of bed bug infestations.
Industrial poultry production is another – bed bugs feed on chickens. Household
furniture and items are also partly responsible for the explosion in the number
of reported infestations in the USA.
Insecticides and heat treatment for infestation
control
Heat treatment and insecticides are currently used to deal with
infestations. Insecticides which humans have easy access to have not usually
been tested on bed bugs, the researchers stressed.
With heat treatment
you heat the whole home – furniture and belongings can be packed in boxes and
heated at a high temperature for about sixty minutes. These options are
expensive and not suitable for long-term infestations. President of ASTMH, Peter
J. Hotez, MD, PhD, said:
"Just as with other global diseases once thought under control and
then neglected, bed bugs have shown the ability to resurge in great numbers once
our vigilance wanes.To stay one step ahead of bed bugs and other parasitic
organisms, we need to sustain investment in research for new
tools."
SEATTLE — The mere mention of the Internal Revenue Service is enough to make most people squirm, but now some of the agency's own employees are feeling queazy after discovering bedbugs in their office.
An IRS worker first spotted a single bedbug at the Seattle office in October. An exterminator trapped a second bug, and that was enough for IRS officials to send in the hounds.
Exterminators use dogs trained to sniff out the insects, and the dog who canvassed the IRS offices didn't find any more bugs.
Exterminator Grant Gummo didn't help with the IRS case, but he suspects the bedbugs discovered in the Federal Building hitched a ride to work from an employee's home.
"You have your purse next to your bed, or a bag. The bedbugs crawl into the bag, you carry it and have bedbugs at work," Gummo said.
It's never easy finding bedbugs, and Gummo said that because office chairs are perfect hiding spaces for the insects, finding them in a large office building can be even more difficult.
An IRS employee anonymously complained about seeing another bedbug several weeks ago, but agency officials say no more bugs have been found at the office.
They say they'll continue to monitor the situation.
From KOMO News By
Mark Miller
Published: Nov 29, 2011 at 6:37 PM PSTLast Updated: Nov 30, 2011 at 6:54 AM PST
Stop Bugging Me Pest Control offer both Commercial and Residential bed bug services throughout the Seattle and the entire puget sound.  call 206 749 2847 for an over-the-phone estimate.
Technology from Wash. lab could target bedbugs
The Associated Press
RICHLAND, Wash. —
Scanning technology developed at a Richland lab to screen airplane passengers could soon be used to target bedbugs.
The technology developed at the Pacific Northwest National Laboratory has been licensed to a startup company in Corvallis, Ore., as part of a White House initiative to help young companies grow, the Tri-City Herald reports.
The lab, part of the Department of Energy, has signed option agreements with startup companies for three technologies. Innovations include millimeter wave technology to be used to see inside walls to detect insects hiding there, and advances to improve rechargeable batteries and fuel cells.
VisiRay in Corvallis, Ore., signed an option agreement with PNNL for millimeter wave technology and plans to manufacture devices to detect pests in buildings. The initial target will be bedbugs, sometimes called wall louse, because they may live inside walls as well as in beds and couches, the Tri-City Herald reports.
VisiRay was started by University of Oregon Lundquist Center for Entrepreneurship students participating in PNNL's University Technology Entrepreneurship Program. The company's products would allow inspectors to see through drywall particle board and view clear images of pests inside walls. The initial target will be bedbugs, sometimes called wall louse, because they may live inside walls as well as in beds and couches.
PNNL initially developed the millimeter wave technology with Federal Aviation Administration grants to scan passengers using harmless radio waves. It can detect objects hidden beneath their clothing, whether they are metal, liquid, plastic or ceramic. The technology now is in use at about 78 airports nationwide.
In June, that same technology was licensed to be used to help shoppers by creating a three-dimensional holographic image of their bodies to help them find clothing most likely to fit them.
"We have a long history of working closely with entrepreneurs and early stage companies to develop and adapt our innovations into new or improved products and services," said Cheryl Cejka, PNNL's director of technology commercialization, in a statement.
The White House's Startup America initiative reduces the cost of options to license patents to U.S. startup companies to $1,000, a fraction of the usual cost.
PNNL also signed agreements could lead to products designed to increase the storage capacity of rechargeable batteries used to power portable devices, such as laptop computers, and electric vehicles. Recharging could take minutes instead of hours, according to the Richland lab. Another PNNL technology is being used to reduce the use of platinum in certain fuel cells that are used primarily for backup power.
Copyright The Associated Press
You've heard of snakes on a plane, now here come bugs on a plane.
North Carolina couple is suing AirTran Airways, alleging that cockroaches crawled out of air vents and overhead carry-on bins during a flight from Charlotte to Houston in September.
Attorney Harry Marsh and his fiancé Kaitlin Rush say the insects appeared soon after takeoff, and when Marsh pointed them out to flight attendants, they did nothing to help.
"These roaches and other pests caused great distress to a number of passengers throughout the flight," the complaint states.
All paying guests of the airline are entitled to "clean, pest-free" accommodations, it goes to to say.
The couple accuses AirTran of negligence and recklessness, infliction of emotional distress, nuisance, false imprisonment and unfair and deceptive trade practices, and is suing for more than $100,000 plus the price of their tickets.
Harry Marsh and his fiancé Kaitlin Rush say the cockroaches made them sick.
In a response to the complaint filed with the U.S. District Court for the Western District of North Carolina, AirTran denies most of the allegations.
CNN legal analyst Sunny Hostin predicted the case would never go to trial.
"This is a case that's going to settle. Bottom line, I foresee a lot of free flights for this couple if they want to get back on AirTran," Hostin said.
"It's certainly not a pretty picture. The roaches were out long enough for them to take video and photographs, so that's exhibit A."
FROM CNN.COM